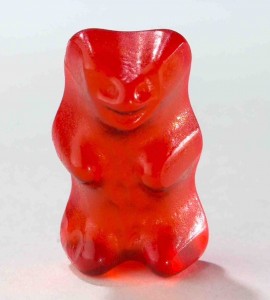 Have you ever really looked at the expression on a gummie bears face? It is actually quite evil! They are so good though. I have to admit, I am racist when it comes to gummie bears, I like the green ones the best. So when I made this centerpiece I made sure to put the green on the bottom to save them from dirty little hands.
This is super easy and kids love it. Buy a HUGE bag of gummie bears, you can get them at most party stores or Dylan's Candy Bar
 which I recommend because you can buy specific (and really pretty) colors. Wash your hands and dig in, separating the entire bag by color. Put them in a glass pitcher starting with your favorite color, then second favorite and so on. Proudly display it on the table and continue to eat them in the weeks following.
[poll id="3"]